空乘面试英语及必收藏万能句式
作者:
岱恩小编
2023.03.15 16:21

0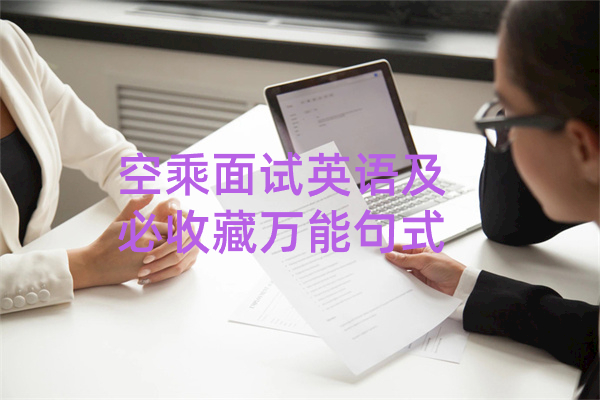 面试常用:
Good morning, ladies and gentlemen!
女士们,先生们,早上好!
It is really my honor to have this opportunity for an interview.
很荣幸有机会参加此次面试。
I am ... years old, born in ...
我今年...岁,出生于...
I graduated from ...,my major is ... , and I got my... after my graduation in the year of...
我毕业于..大学...专业,我在...年毕业获得...学位。
During my university, l got...
在大学期间,我获得了...
I enjoy...
我平时喜欢...
I worked in ...
我曾在...工作
That's all. Thank you for giving me the chance.
感谢各位给我此次机会。
Hello,my name is________. I am ________ years old. I graduate d from________university and major in _______. I am outgoing and positive. Now I work in a _________ company as a __________. I like to read English story books in my free time. Sometimes I surf the Internet and download the E- books to read. In addition, it also enlarge my vocabulary words because of the advanced technology and the vivid animations. I hope to study both English and computer technology because I am interested in both of the subjects. Maybe one day I could combine both of them and apply to my research in the future.
起飞前:
1. Morning, madam(sir). Welcome aboard!
早上好,女士(先生)。欢迎登机!
2. May I introduce myself?I'm ___, the chief purser of this flight.
请允许自我介绍。我叫___,本次航班的乘主任务长。
3. Morning, sir. Welcome aboard. Business class or economy? 早
上好,先生。欢迎登机。坐公务还是经济舱?
4.Follow me, please. Your seat is in the middle of the cabin.
请跟我来,您的座位在客舱中部。
5. An aisle seat on the left side ------ here you are, sir.
是左边靠走廊座位------这是您的座位。
6.请出示您的登机牌。
May I see your boarding pass?
7. 我帮您拿行李好吗?
May I help you with your bag?
8. The plane is about to take off. Please don't walk about in the cabin.
飞机马上要起飞了,请不要在客舱内走动。
9. 这是呼叫钮,如果需要我们帮忙,请按一下。
This one is the call button, if you need us for anything, please push it
10. 请把您的箱子放在行李架内。
Please put your box in the overhead bin
11. 您不能把行李放在这儿,过道不能堵塞。
You may not leave the baggage here. The aisle shouldn't be blocked.
延误:
1. 由于机械故障,航班已延误,机械师们正在对飞机进行仔细检查。
The flight has been delayed due to some mechanical troubles. The engineers aremaking a careful examination of the plane.
2. 由于地面有雾,本次班机将延误约两小时。
The flight will be delayed about 2 hours due to ground fog.
3. 由于空中航路拥挤,我们要等待通行许可(才能起飞)。
Owing to the heavy air traffic, we'll wait until a take-off clearance is given.
4. 我们须等待跑道上的冰被清除。
We have to wait until the ice on the runway has been cleared.
5. 我们的飞机要装完货才能起飞。
Our plane can't take off until the cargo is loaded.
6. 我们正在等待几位乘客办理登机手续。
We are waiting for a few passengers to complete boarding formalities.
7. 如果有进一步的消息,我们会立即通知你(们)的。
If we have any further information, we'll let you know immediately.
8. 请您回到您座位上好吗?飞机马上要起飞了。
Would you please return to your seat? The plane is taking off soon.
客舱服务:
1. 我们马上要供应饮料了。请放下您的小桌板。
Now we'll be serving drinks. Please pull down your tray table.
2. 先生,您想要杯香槟吗?
Would you like a glass of champagne, sir?
3. 您想来点热/冷饮料吗?
Would you like something hot/cold to drink?
4. 咖啡还未冲好,来杯热茶好吗?
Coffee isn't ready yet. Would you like to have a cup of hot tea instead?
5. 您想在饮料里放点冰块吗?
Would you like some ice in your drink?
6. 小心烫手!
It's hot! Mind your hand.
7. 您想要吃什么?烤牛肉还是熏火腿?
What would you like to have? Roasted beef or smoked ham?
8. 我们机上配备的餐食既有中式口味也有西式口味。
Our meals on board are designed to meet both Chinese and Western tastes.
9. 我们有多种菜肴供您选择。
We have a selection of dishes for you.
10. 先生,您还要点别的什么吗?
Would you like more of anything, sir?
11. 对不起,鱼没有了。您能换一道菜吗?我们有鸡……您想来点吗?
I'm sorry. There is no more fish left. Can you make a change? We havechicken…Would you like some?
12. 您介意我把这些东西拿走吗?
Would you mind me taking these away?
紧急情况:
1. Fasten your seat belts immediately. The plane will make an emergency landing because of the sudden breakdown of an engine. 马上系好安全带。由于飞机发动机出现故障,将做紧急迫降。
2. Don't panic!
不要惊慌。
3. Our captain has confidence to land safely. All the crewmembers of this flight are well trained for this kind of situation. So please obey instructions from us.
我们的机长完全有信心安全着陆。我们所有的机组人员在这方面都受过良好的训练,请听从我们的指挥。
4. Take out the life vest under your seat and put it on!
从座椅下拿出救生衣,穿上它!
5. Don't inflate the life vest in the cabin and as soon as you leave the aircraft, inflate it by pulling down the red tab.
请不要在客舱内将救生衣充气!一离开飞机立即拉下小红头充气。
6. Put the mask over your face!
戴上氧气面罩!
7. Bend your head between your knees!
把你的头弯下来放在两膝之间!
8. Bend down and grab your ankles.
弯下身来,抓住脚踝。
9. Get the extinguisher.
拿灭火器来!
10. Open seat belts. Leave everything behind and come this way!
解开安全带,别拿行李,朝这边走!
11. This plane has eight emergency exits. Please locate the exit nearest to you.
本架飞机有八个安全门,请找到离你最近的那个门。
12. Jump and slide down!
跳滑下来!